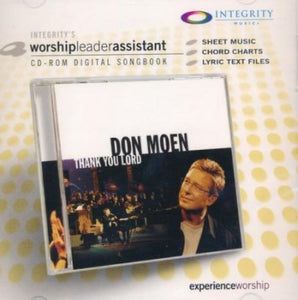 Don Moen Thank You Lord Worship Leader CD-rom
Regular price $19.99 $7.99 Sale
Worship Leader Assistant CD-rom Digital Songbook.
Includes Sheet Music, Chord Charts, and Lyric Text Files of the entire album. 14 Tracks.
This Is Your House
Arise
Thank You Lord
Creator King
Throne Of Praise
Rescue
I Need Thee Every Hour
At The Foot Of The Cross (Ashes To Beauty)
Mi Corazon
1Worthy Of Praises
Jesus You Are My Healer
MEDLEY: All To You, I Surrender All
Wonderful Magnificent God
When It's All Been Said And Done
Don Moen is a creative force and gold-selling recording artist with a worshiper's heart. As a musician, songwriter, singer, and worship leader, he has earned critical acclaim and awards. As executive vice president of Integrity Media, he has had a hand in producing or overseeing numerous projects which have helped make the company an industry leader. In both roles, Moen is realizing a dream of reaching thousands worldwide with tools to bring them "into the manifest presence of God." Moen is a graduate of Oral Roberts University and resides in Mobile, Alabama.