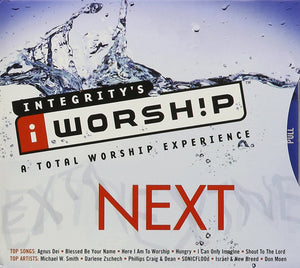 iWorship Next 2CD/DVD
Regular price $18.99 $13.99 Sale
Factory Sealed. Comes in Jewel Case and Bonus DVD in Slipcase.
Disc 1
My Redeemer Lives
Better Is One Day
You're Worthy of My Praise
Famous One
I Can Only Imagine
I Love You Lord
Agnus Dei
Everyday
Heart of Worship
Lord I Lift Your Name on High
Refiner's Fire
Here I Am to Worship
Shout to the Lord
Hungry (Falling on My Knees)
Made Me Glad
God Is Great
That's Why We Praise Him
Disc 2
Romans 12:1
Friend of God
Fields of Grace
Sweeter
Blessed Be Your Name
Cannot Say Enough
He Reigns
For Your Glory
In Christ Alone Medley
Reign
Offering
Thank You Lord
Word of God Speak
True Worship Song
I Will Do the Same
I Will Rise Up
The next album in the 1 million unit selling iWorship series, Integrity's iWorship NEXT is an amazing collection of the most popular worship songs and fast rising favorites being sung in the Church today. With 2 discs titled NOW & NEW, this specially priced double CD features top Christian artists like Michael W. Smith; MercyMe; Darlene Zschech; Sonicflood; Phillips, Craig & Dean; Todd Agnew and Don Moen with 33 incredible worship songs including "I Can Only Imagine," "Friend Of God," "Shout To The Lord," "Here I Am To Worship," "Blessed Be Your Name," "Word Of God Speak" and many more. A FREE bonus DVD is included featuring 3 worship videos. For worship leaders, an innovative 9x12 Songbook with CD-ROM is available featuring all 33 songs in a fully transposable format enabling instrumentalists and vocalists to create customized sheet music in any key - ready to print in a variety of formats including chord charts, piano accompaniment, lyric sheets and more. Add Integrity's iWorship Volumes 1 & 2 featuring 69 more worship songs.