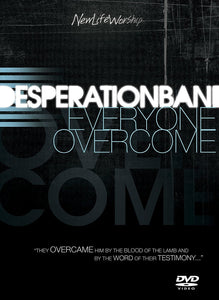 Desperation Band Everyone Overcome DVD
Regular price $14.99 $7.99 Sale
Desperation Band DVD is Factory Sealed.
Track Listing: 1) Prologue 2) Light of Salvation 3) Counting on God 4) Overcome 5) Good to Me 6) Open Your Eyes 7) I'm Coming Your Way 8) Taking Over Now 9) I Will Go
Now available on DVD, Everyone Overcome features the Desperation Band in a powerful night of modern worship. Featuring Jon Egan, Jared Anderson and Glenn Packiam, these award-winning songwriters are worship leaders at New Life Church in Colorado Springs, Colorado under the leadership of Ross Parsley. Their desire is to create music that helps lead a desperate generation of students and young adults into the presence of God as they worship Him.