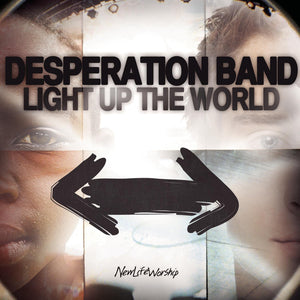 Desperation Band Light Up The World CD
Regular price $13.99 $8.99 Sale
Factory Sealed. Comes in Jewel Case.
You Started It All (Intro)
You Hold It All
Be the Change
Solid Rock
God Be Praised
Dawn Till Dusk (Soaking Session)
Highest Place
Great God
Joy Will Come
The Morning (Soaking Session)
Light of the World
Mercy Is Falling
Burning Tree / Holy Ground
Angel Song
Rescue 
I Am Free
Filled with passionate songs birthed in the furnace of worship, prayer and intercession, Desperation Band's first studio album is a powerful experience calling the body of Christ to mercy and justice. Light Up The World is a fresh new sound of worship from the Desperation Movement through which thousands of students have taken the Desperation Vow to wholeheartedly follow God. In a special partnership with Heartwork Uganda, this album is dedicated to being a source of mission preparation and funding for the building of orphanages in Uganda.

This enhanced CD contains two bonus songs, as well as a special HeartWork video.