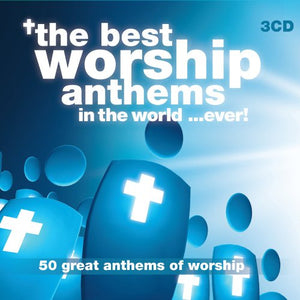 Various Artist Best Worship Anthems 3CD
Regular price $18.99 $9.99 Sale
Factory Sealed. Special 3 CD Jewel Case.
Hosanna (Praise is Rising)
Come Now is The Time To Worship
Manifesto
How He Loves
King of Wonders
Made Me Glad
All The Poor & Powerless
Great I Am
Jesus At The Center
At Your Name
Like a Lion
Who is This Love Amazing
Hungry (Falling On My Knees)
Sovereign Over Us
The Heart of Worship
I Am Redeemed
My Soul Sings
My Saviour Lives
One Thing Remains
Your Grace is Enough
Love Came Down
Majesty
The Same Love
We Still Believe
Name Above All Names
I Can Only Imagine
Glory To God Forever
Strong God
Second Chance
Psalm 62
Holy You Are Holy (Santo)
In Christ Alone
Shout To The Lord
Counting On Your Name
Overcome
Your Love Never Fails
You Alone Can Rescue
Remain
Spirit Breakout
How Deep the Fathers Love
Power Of The Cross
Everlasting God
Come People of The Risen King
Surrender
Our God Saves
I Have a Dream (It Feels Like Home)
Adoration
Our God
Exalt
Days of Elijah
Featuring 50 great anthems of worship, The Best Worship Anthems In The World Ever! is the definitive collection of anthems that impacted the global church. With three CD's full of powerful music, written by the greatest songwriting craftsmen of the modern church era, this collection will inspire you to celebrate your faith out loud!