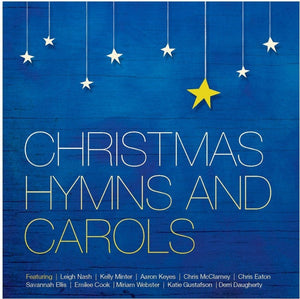 Various Christmas Hymns & Carols CD
Regular price $13.99 $8.99 Sale
Factory Sealed. Comes in Jewel Case.
Track 1 : The Baby Will Come
Track 2 : O Sacred and Immortal Day
Track 3 : Come Let Us Adore Him
Track 4 : See Amid the Winter's Snow
Track 5 : Child In the Manger
Track 6 : Simeon's Song
Track 7 : Glorious (Great and Mighty)
Track 8 : God is Love
Track 9 : Sing Him Gloria
Track 10 : The Angel Song
Track 11 : Come, All People
Track 12 : Let Us Be
An exciting new project from Kingsway and Lifeway, Christmas Hymns and Carols brings together some of the leading artists at work today - from Aaron Keyes and Chris McClarney to Kelly Minter, Leigh Nash and Chris Eaton.
But it's the songs that tell the real story. There are well-loved greats like `O Come Let Us Adore Him' and `See Amid The Winter Snow', as well as powerful anthems like `Come Ye People', `O Sacred Immortal Day' and `The Angel Song'. Together they combine to make a unique Christmas album.