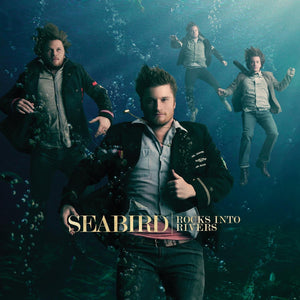 Seabird Rocks Into Rivers CD
Regular price $13.99 $7.99 Sale
Factory Sealed. Comes in Jewel Case.
TRACK LISTING
01. Don't You Know You're Beautiful
08. The Sound Of You And I
PRODUCT OVERVIEW
Seabird has a knack for creating songs that you can't get out of your head. Their debut release 'Til We See The Shore is an album that received critical acclaim from media for doing just that. Since the release of the debut, Seabird has taken their craft on the road and performed in front of thousands sharing the stage with artists like Jars Of Clay, David Crowder Band and many others. Throughout 2008 and 2009 Seabird has seen their music make its way on to hit TV shows like Grey's Anatomy, Numb3rs, and others giving them exposure on the major television networks and exposure to many new fans. Their sophomore release Rocks Into Rivers reflects the experience and maturity of one of the busiest new artist schedules of 2008 and 2009. Working with producers in LA (Matt Hales – Aqualung) and Nashville (Paul Moak) Rocks Into Rivers delivers honest songs about love, loss, and faith Seabird is known for while merging the sonic worlds of modern piano rock and Brit-pop to create one-of-a-kind melodies. Seabird fans don't have to wait long to hear the songs from the highly anticipated Rocks Into Rivers as the guys hit the road with David Crowder Band where they will be debuting songs from the upcoming release. Rocks Into Rivers is sure to be another Seabird record to receive critical acclaim and is a must have for every Seabird fan and a must listen for those who have yet to experience the band. Rocks Into Rivers hits stores December 15th.