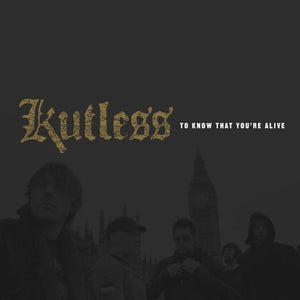 Kutless To Know That You're Alive CD
Regular price $13.99 $8.99 Sale
Factory Sealed.
03. To Know That You're Alive
04. The Disease & The Cure
Sometimes the most ambitious artistic breakthroughs are birthed out of the most unexpected circumstances, or more accurately in the case of Kutless' To Know That You're Alive, a painfully annoying accident. Having front man Jon Micah Sumrall tear his shoulder might seem like an unlikely muse for songwriting and sonic sculpting- especially considering the band's sold over 1.5 million CDs, performed in front of nearly two million fans and conquered Christian radio with numerous singles since its debut in 2002- but it results in one of the band's most immediate, expressive and aggressive discs to date.

Of course, that means of personal gratification can only come in Christ, which is a thread that runs through the record's potent emotional framework, regardless of radio format. For the contemporary-minded crowd, "Complete" channels the idea that everyone has a God shaped hole inside their heart that can only be filled through faith, not to mention a daily walk with the Lord. For those more inclined to pump their fists, "The Feeling" (offered as a free, pre-release single download, flanked by endless internet buzz) is a rollicking romp that's sure to connect in concert, but is anchored around the common goal of lifting one's voice to bring glory to God. "Promise You" also leans towards the rock faction of Kutless' fan base, diving deep into the darkness of spousal abuse and serving as an anthem for the victims to rise above their circumstances.