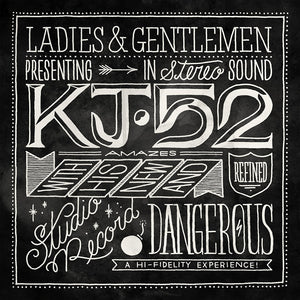 KJ-52 Dangerous CD
Regular price $13.99 $9.99 Sale
Factory Sealed. Comes in Jewel Case.
TRACK LISTING
01. It's Going Down (ft. Canton Jones)
02. They Like Me (ft. Lecrae)
06. Shake 'Em Up (ft. Thi'sl)
07. Do The Bill Cosby (ft. George Moss)
08. So Far Apart (ft. Emily of Shine Bright Baby)
10. Speed That Light (ft. Rhema Soul)
11. That Was My Life (ft. Dre Murray)
PRODUCT OVERVIEW
Leaving behind all inhibition, KJ-52 is charging back into the scene with his anticipated new release, Dangerous. Picking up where his Dove Award-winning "Five-Two Television" (2010 Rap/Hip Hop Album of the Year) left off, Jonah Sorrentino is back and bold as ever with his passionate call to be Dangerous. Having overcome many obstacles in his career with over 550,000 albums sold, the rapper cries out for people to be real, to share the love of Christ with others without restraint.

Teaming up with producers Ted T (Mute Math, Stacie Orrico) and Aaron Sprinkle (Jeremy Camp, Anberlin, Kutless), KJ-52 has outdone himself once again. He is known in the industry as an excellent performer, producer, and songwriter, and this release reaffirms all of the above. "Five-Two Television" proved that he was willing to take his critics head on, and Dangerous proves that he means it.