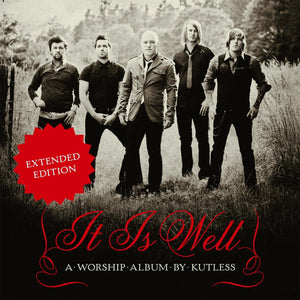 Kutless It Is Well Deluxe Edition 2CD
Regular price $16.99 $15.99 Sale
01. It Is Well
14. Give Us Clean Hands (Live)
15. What Faith Can Do (Live)
17. Remember Me (Acoustic)
Kutless' follow up album to gold selling worship release Strong Tower. It Is Well featured several brand new singles such as "What Faith Can Do," "Amazed," and favorites such as "Hungry," "Give Us Clean Hands," and "God of Wonders." The heart of worship is something the band as a whole is very intune with and love bringing that to the forefront, sharing and coming together as one to give glory to God. With the new album, the audiences have been able to sing along to the classics as well as add some new favorites into their time of worship. 

It Is Well (Expanded Edition) features 4 LIVE songs including "What Faith Can Do" and 1 unreleased studio song. 
Kutless, a rock and worship band from Portland, Oregon, has several No. 1 radio hits, including "Strong Tower," "What Faith Can Do," and "Carry Me To The Cross." With 1.9 million units sold and 1 RIAA Gold certified album (Strong Tower), Kutless continues to declare God's glory through song.