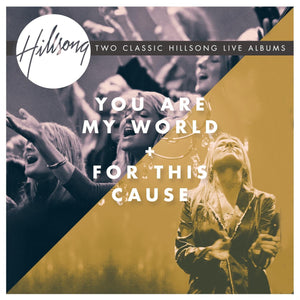 Hillsong You Are My World/For This Cause 2CD
Regular price $18.99 $14.99 Sale
2 CDs for 1 Great Price.
01. Your Love Is Beautiful
08. Everything That Has Breath
03. Awesome In This Place
06. I Simply Live For You
Hillsong Classics series combines, for the first time, two classic Hillsong albums in the same package. You heard right! Hillsong has gone back to the archives and paired some of their most loved albums together with the consumer in mind. This two-disc reissue is perfect for the collector and new fan alike. Whether they are looking to complete their Hillsong library or simply looking for great worship music at a great value, the Hillsong Classics series is the perfect choice. As the music of Hillsong continues to gain popularity here in the United States, more and more fans are looking for the albums and songs that paved the way for the worship movement that is spreading around the world – these titles satisfy that search in one simple package.