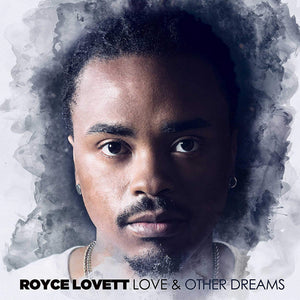 Royce Lovett Love & Other Dreams EP CD
Regular price $9.99 $7.99 Sale
7 Song EP
| | |
| --- | --- |
| 1 | Up For Love |
| 2 | Mr. Radio |
| 3 | Runnin' |
| 4 | Ballad (Fly) |
| 5 | Sunday Morning (Thinkin `Bout You) |
| 6 | A Hero Song |
| 7 | Up For Love |
Love & Other Dreams is the compelling new album from Motown Gospel recording artist Royce Lovett. This genre-bending collection of music organically fuses hip-hop, soul and rock to showcase Lovett's unmistakable voice, guitar-driven melodies, and profound lyricism with a unique urban flair.

Produced by Max Stark (Kirk Franklin, The Walls Group, Anthony Evans and Tamela Mann), and with songs co-written by Lovett and Stark, Love & Other Dreams features 7 honest but hope-filled songs that are sure to resonate with listeners everywhere.

Royce Lovett brings a much-needed breath of fresh air to the musical landscape. Having groomed his lyrical skills for years as an underground emcee, Lovett was signed to Motown Gospel in 2014 and has carved his own musical path ever since.