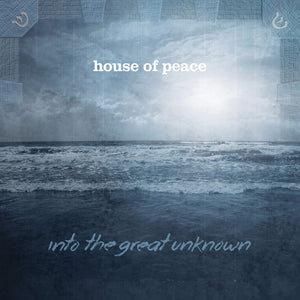 House of Peace Into The Great Unknown CD
Regular price $13.99 $9.99 Sale
CD is New but notch in Jewel Case.
INTO THE GREAT UNKNOWN is the first full studio album from House of Peace. The 11 song project celebrates the band's credo of diversity through unity by incorporating a broad range of contemporary musical styles paired with ancient, time-honored theological themes. The result is a listening experience that is at once God-honoring, ear-pleasing and soul-refreshing.

Produced by, David Liscum, Ed & Scott Cash (Chris Tomlin, Needtobreathe, Jeremy Camp, David Crowder Band.) Founder David Liscum, wrote and co-wrote with Scott Cash on 'Break the Bread' recording at Ed's studio in Franklin, TN. He is quick to point out that House of Peace is a band, and not a solo effort. Liscum is joined by an eclectic group of musicians including guitarist Jeff Maldonado, drummer Seadric Crawford, Ryan Horner on bass and Maldonado's wife Christine on percussions and background vocals. The song 'New Life' is featured on the release and was written for 'The Identical' movie and featured on the soundtrack.