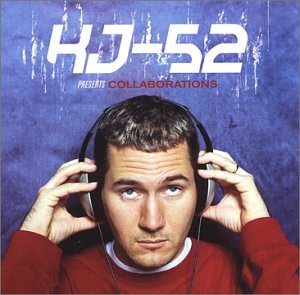 KJ-52 Collaborations CD
Regular price $13.99 $8.99 Sale
Factory Sealed. Comes in Jewel Case.
01. Leave A Message (Intro.)
03. The Choice Is Yours (Featuring John Reuben)
04. Rise Up (Featuring Rob Beckley Of Pillar And Trevor Of Thousand Foot Krutch)
06. Nursery Rhymes (Featuring Playdough)
07. Sonshine (Featuring Nirva Dorsaint)
08. Wait For You (Featuring Nirva Dorsaint)
09. Revenge Of The Nerds (Featuring Pigeon John)
11. Industry (Spoken Word Interlude)
12. Why (Featuring Mars Ill)
13. 47 Emcees (Interlude)
14. ABC's and 1,2,3's (Featuring Billy Puddles)
15. Where Were You (Featuring Golden Child)
Dove Award nominee KJ-52 is definitely no stranger to the Christian music scene market or to more attentive hip-hop fans across the USA! KJ-52's creatively subversive East Coast style has been an underground phenomenon throughout the 90s and continues to bring it o the table in 2002. KJ-52 continues to expand his fan base with the release of "Collaborations"!

KJ-52's album will feature collaborations with members of Grits, as well as ill harmonics, John Reuben, Pigeon John of LA Symphony, and the lead singers from Pillar and Thousand Ft.Krutch.

KJ-52's tells us that this album features relevant music for today's music listeners and makes sure to focus on the fact that "Christ is the main focus of this album and that with Him all things are possible."