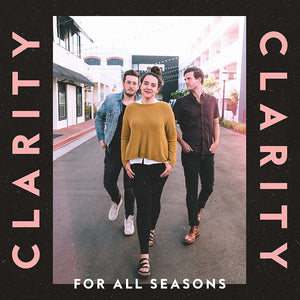 Clarity For All Seasons EP CD
Regular price $9.99 $7.99 Sale
Factory Sealed.
PRODUCT OVERVIEW
Clarity is an album rooted in story, which is a fitting introduction for the California-based band For All Seasons. "The songs have the DNA of all of us in them," Emily says of the project's seven tracks. "The message that's continually coming out of our mouths, whether it's onstage, or offstage or through all the music we write, is this idea that because of God's consistent nature, He's deserving of worship all the time. This is our decision for every season of life."
MARKETING HIGHLIGHTS
Debut single, "Higher," in top 40 on Radio
Our decision to worship isn't rooted in our circumstances or our emotions, our gifts or our talents. We worship, not because of how we feel or what we're going through; we worship because of who God is. He has proven faithful time and time again, and so we continually chose to seek Him—in joy and in pain—in every season. This truth is the guiding vision behind California-based band For All Seasons. Comprised of Emily Hamilton (lead vocals, guitar), Johnny Hamilton (drums),and Jeff Luckey (guitar, keys, vocals). For All Seasons desires to cultivate an atmosphere of hope through their new project Clarity, no matter what season of life listeners may find themselves enduring.