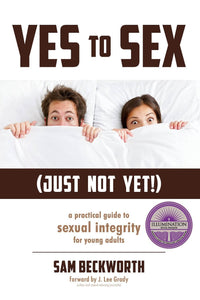 Sam Beckworth Yes to Sex? Just Not Yet!
Regular price $14.99 $9.99 Sale
Paperback.
As a young adult you have a lot to deal with. Between the challenges of school and thoughts of the future, looking for a real friend, family drama and still, after all that, endeavoring to enter adulthood with some framework of character and fear of God, your life can probably get overwhelming. With that said, it is quite possible that sexual integrity isn't necessarily a fight you will choose to take on. Christian or not, it may seem easier to live sexually active and not bother swimming against the current of sexual acceptance or even deal with the peer pressure of resisting. Well, I believe that God has a message for you to hear and my hope is that some of those helpful tools will be found in this book.
 
Despite all the misguided ideas about Him, God is good, relational and has your best interests at heart. Furthermore, when it comes to sex, young people may be pleasantly surprised to hear what their Creator has to say about the subject. Like a present to be opened at Christmas, God has a perfectly crafted season for you to enjoy this special gift. Let it be known that God says, "Yes to Sex!" His answer isn't "No," just "Not yet!" If you're willing to take the challenge, you can say the same.