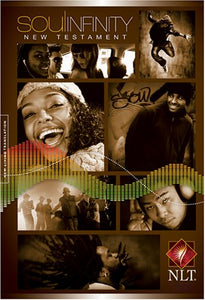 NLT Soul Infinity New Testament Softcover
Regular price $12.99 $8.99 Sale
Softcover Paperback with Jacket.
Soul Infinity is a New Testament that addresses the concerns and interests of urban youth. It features content that gives readers the tools to build a better life through God's life-changing truths. This is the New Testament with soul for today's urban culture. Urban Spirit! created the content for Soul Infinity to focus on the needs of urban America and those who grew up in church and in the hip-hop generation and who participate in the culture and enjoy its music, art, and style. The Urban Spirit! Editorial team includes editors and writers who have years of experience, expertise, and credentials in Christian education and curriculum design/publishing. They—like many members of the hip-hop renaissance—are determined to create only what is authentic! 
This product has a landscape-oriented layout but comes packaged in a portrait-oriented O-wrap.