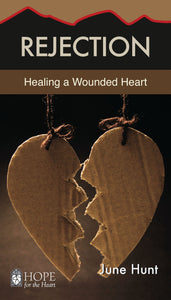 June Hunt Rejection : Healing a Wounded Heart
Compact Paperback.
How do you cope when a deep or tragic loss leaves you feeling empty, angry, or alone? Healing is a journey, and while there are no shortcuts through the process of grief, God promises not to leave you in the valley of despair. Through this Christian book, learn what the causes of feeling rejected are, like abandonment, adoptions, childhood sexual abuse, disapproval, divorce, domestic violence, and how to overcome those painful experiences.
Have you walked the lonely road of rejection? If so, you know the silent cry for acceptance, that inner need for intimacy, the deep craving for closeness. Jesus, too, dealt with rejection. Your identity is in the Lord because of your relationship with Him. He holds you in His compassionate hands, and you are accepted.
Discover how to:
Know whether or not you are controlled by the fear of rejection
Identify the outer signs of rejection often seen and felt by others
Stop the cycle of rejection
Replace rejection by reaching out to others
Learn how to overcome rejection in the section titled, Steps to Solution, where June Hunt walks you through:
The 4 things you need to know about God's character
4 keys to God's acceptance
7 Facts to know about your rejection
Questions and answers to help you break through feelings of rejection
And much more.
Look for all 46 titles in the Hope For The Heart Biblical Counseling Library. These mini-books are for people who seek freedom from codependency, anger, conflict, verbal and emotional abuse, depression, or other problems.
The Hope for the Heart Bible Quick-Guides are perfect for—
Small group & Bible studies
Sunday school
Young adult and youth ministry
Chaplaincy
Christian counseling
Addiction & recovery programs
Church giveaways
and much more