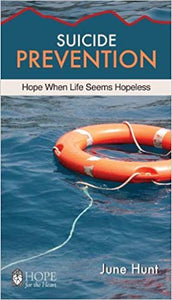 June Hunt Suicide Prevention : Hope When Life Seems Hopeless
Compact Paperback.
This quick guide Suicide Prevention covers the steps to identifying and preventing suicide using a Christian approach. Suicide prevention requires compassion toward the sufferer, along with practical steps and biblical assurance of God's love.
Suicide Prevention helps you spot the characteristics of a person in danger. Learn
The 3 stages of potential suicide
Which emotions to watch for
The types of suicide: symbolic suicide, copycat suicide, and the newly coined "bully-cide" affecting young people.
Nothing is as heartbreaking as a loved one who has lost hope and is contemplating suicide. A person who seems cheerful one day can slip into despair and hopelessness the next. God's heart is tender and full of compassion toward those experiencing deep pain. This easy-to-understand minibook is a quick overview focuses on the key issues—perfect for the busy person who needs instant advice. Perfect for individual use, counseling, recovery clinics, pastoral care, church libraries, youth and adults, Bible study, and more.
3 Key Features of June Hunt's Suicide Prevention Christian Counseling Quick Guide
Quick Overviews: With easy-to-read headers, definitions, simple summaries, bullet points, and lists, you'll quickly gain insight on key points, Scriptures, statistics, and more at a glance.
Practical: Learn how to better reflect God's heart to help those who are hurting, and step-by-step insight on what to say and what to do.
Bible-Based: Get advice straight from the Word of God that you can use as encouragement and daily strengthening. From God's tender heart springs forth words of wisdom, life-transforming truths that truly affirm your value to him.
Learn the Difference Between Suicide Facts and Fiction
Suicide Prevention is an easy-to-understand book that covers the basics everyone should know, and separates fact from fiction:
Fable: Never talk about suicide with deeply depressed people it could give them ideas.
Fact
: Asking what someone is feeling doesn't create suicidal thoughts. You can assume that most depressed or very anxious people have given some thought to taking their lives. Demystify the subject by talking about their feelings.
Fable: More suicides occur in the winter holidays.
Fact
: Suicide rates are below average in the winter and above average in the spring, peaking in April. For youth, suicide rates are higher in the summer... In general, suicide risks decrease as social interactions increase. Becoming aware of the most frequent occurrences of suicide will help you discern when a struggler is at risk.
This Suicide Prevention Quick Guide Answers Key Questions
Know the answers to these vital questions so that suicide can be prevented:
When are suicide attempts more likely?
Are suicide rates higher in urban or rural areas?
How marital status correlates with suicide rates.
Know what age groups are most at-risk for suicide.
Discover the importance of a belief in God in suicide prevention.
Look for all 48 titles in the Hope For The Heart Biblical Counseling Library. These minibooks are for people who seek freedom from codependency, anger, conflict, verbal and emotional abuse, depression, or other problems.
If you are contemplating suicide right now, please call the National Suicide Prevention Lifeline at 1-800-273-8255.