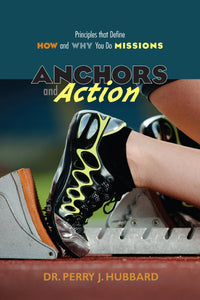 Perry Hubbard Anchors and Action : Missions
Regular price $14.99 $7.99 Sale
Paperback. Autographed.
Have you ever considered why and how you do missions? There are key principles of growth and activity, that if not fully applied can have a profound effect on your quality of life and the satisfaction and success of achieving your goals. Anchors and Action breaks down these vital principles into two groups: the Anchor Principles of truth, purpose, priority, holiness, fruit, and residence, and the Action Principles of leadership, prayer, equipping, partnering, and worship. In them, Dr. Perry J. Hubbard helps you define the basis of your activities in missions and learn how to effectively reach people with the gospel. 

Dr. Hubbard explains how faulty understanding in these areas can greatly impact our decisions of why we are involved in missions and what we expect to accomplish. He also explains how faulty teaching and activity in these areas can prevent us from reaching the goals we set and may result in many not hearing the gospel. It could even result in others hearing what sounds like a false gospel! 

Comparing the world's definition of these principles to the Bible's definition, Anchors and Action brings you to a pivotal point of understanding regarding a heavenly and an earthly residence. This insight will change your perspective on what you are doing and why you are choosing to do it, and will help you become the life-changing leader you are being called to be!